ArCADia BIM 3D Architect 2021
Environmentally friendly as an instant download
Unlimited use
13 additional modules – expandable at any time
one-time price / no recurring costs
secure payment with SSL encryption
100% buyer protection
including architecture module
NEW: The "Escape & Rescue Routes" module is included
A detailed list of all functions can be found in the PDF manual.
Introductory campaign
When purchasing the ArCADia BIM 3D Architect, you will receive all 13 additional modules as a full version for 28 days free of charge.
System requirements
Microsoft Windows® 7, 8 or 10, Pentium II processor or higher (Intel Core® i5 processor or higher recommended), at least 2 GB RAM, 3 GB free hard disk space, graphics card with DirectX® 9.0 or higher, internet access required.
Planning real estate from A to Z: this is what the ArCADia BIM 3D Architect is all about
Would you like to plan your building project yourself? Is the dream of owning your own home coming true? Or is it just a question of renovating your apartment? Maybe you just want to plan an extension for your house, such as a carport or a winter garden? Would you like to integrate a new living concept into your home? Do you want to try out different designs, interiors and the like? Or should your old house simply experience more innovation? Perhaps you just want to visualize your own ideas or approach the creation of architectures?
Then the ArCADia BIM 3D Architect is there for you! Because with the extensive 3D CAD software you can construct, visualize and design all kinds of real estate from A to Z. In this sense, the program is used by private builders as well as property owners or traders. Because on the one hand you can plan completely new buildings. This pays off in realizing your dream home as well as in the creation of planned commercial areas.
On the other hand, with the ArCADia BIM 3D Architect you can easily plan all kinds of conversions and renovations, which you can then have carried out on an existing building. Because the software can be used for planning real construction projects and thus effectively helps to realize your ideas. You don't have to be a professional for this. Instead, the program has been created specifically for you as a layperson. You are actively involved in the planning process and work together with your architect.
All of the following functions relate to the ArCADia house planner without additional modules:
Draw complete floor plans: professionally and in accordance with building regulations
A plan with extensive dimensions and sections as well as the floor plan is particularly important for the building permit. With the ArCADia BIM 3D Architect you can easily draw the floor plan for your building project yourself. Tools are available for this, with which you can even set the individual properties of the created walls. You can thus construct multi-layer walls, foundations, wall openings and more. This is how your dream home will finally take shape. While doing the drawing in 2D mode, you can always switch back to 3D mode.
Your plan is visualized here at the same time, which provides a better overview. Perhaps this overview will give you even more ideas? But you use the ArCADia BIM 3D Architect not only for the theoretical planning of your building project. Because the plans that you create can actually be used for the building application. Because within the ArCADia BIM 3D Architect you can easily create different views of your plan. The free definition of the cutting axes, the painting in any scale as well as the individual selection of the visible elements round off this step. The plans and associated representations therefore correspond to German building standards and the requirements of building law and can be easily optimized by your architect and then submitted.
BIM technology: your advantages
The ArCADia BIM 3D Architect is not architecture software like any other. BIM technology is used here. This stands for "Building Information Modeling" and is characterized by the smart way of thinking behind the software as well as flexibility and scope. Because the ArCADia BIM 3D architect not only offers you all sorts of functions for planning and design, but also supports you effectively in the process as well as in renovations and co. Because while you are drawing your dream house with the CAD functions, the BIM process helps with document management. During your planning, the software automatically takes care of collecting all the relevant physical and technical data, parameters and properties. In this way, the ArCADia BIM 3D planner acts as an interface for all kinds of parties involved in building planning. These can therefore provide for the adaptation of various data separately. Subsequently, collisions, for example between the electrical and sanitary plan, can be detected and the improved version can be merged into a new plan.
All parameters documented by the BIM process should therefore also help in the future. Because they are compiled in the documentation and can be used again for renovation and renovation work.
Recognize errors and create optimized plans
The sophisticated BIM technology also enables you to identify errors in individual plans as well as collisions between the plans. This makes it easy to repair them. It becomes even more sophisticated by simply integrating several plans into one document and simplifying the otherwise wide-ranging planning process.
Automatic calculations and functions
With the ArCADia BIM 3D Architects you always have everything at a glance. Because while you are planning your construction project, the software works smartly and automatically in the background. This is revealed, for example, by:
automatic calculations and lists of properties
automatic dimensioning of floor plans, sections and objects
automatic specification of areas etc.
automatic detection of errors in some areas
The focus is on the automatic calculation of areas and volumes. These are thus compiled in a room list and offer a good overview at a glance.
From the apartment to the multi-family house: plan all kinds of real estate
Thanks to the diverse functions within the ArCADia BIM 3D Architect, the software is suitable for all kinds of construction projects. This applies to both the private and the commercial sector and also applies to houses and apartments. In this sense, the software is always the right solution if you want to take the planning and design of your building project into your own hands. However, this does not only apply to the new building. The program is also suitable for:
Planning of conversions, extensions and renovations
Design of garden and outdoor areas
(Re) design of living concepts
Creation of house simulations (multirendering)
House planning as an amateur
Traditionally you are only passively involved in the planning of your building project. This is how you convey all your ideas, wishes and ideas to your architect. This in turn processes the information and creates a construction plan that meets your requirements and all construction standards. The architect also pays attention to the various possibilities and obstacles in terms of statics and technology. However, it should be noted that the architect will process your ideas into his own plan. With this in mind, there is a good chance that you want to change a few things about this. After all, it is your dream home – everything should fit here!
But before you talk to your architect at numerous appointments and keep making changes to the plan and adding new ideas, simply take the planning into your own hands! Because with the ArCADia BIM 3D Architect, this is exactly what is possible. The software was designed for amateurs who want to be on board for project planning. With this in mind, you create your construction project on the screen with ease and with self-explanatory functions. You do not need any previous knowledge or knowledge of architecture and statics. It is enough that you have ideas, which you can then implement with the tools. In addition, when you try out the various functions, you are sure to come up with other ideas that you can integrate into your plan right away!
Free drawings in 2D mode
The ArCADia BIM 3D Architect also enables you to easily integrate freehand drawings into the floor plan. To do this, you use tools that you can easily draw all kinds of geometric shapes and then mirror, rotate, trim and scale them.
Create elements individually
Make your wildest dreams come true. Because with the ArCADia BIM 3D Architect you don't just have to stick to simple specifications and templates. Of course, you have access to finished objects and elements, which you can easily insert into the plan. In addition, numerous parts can also be created yourself. This is decisive in terms of individuality. To do this, simply use the various tools and adapt all kinds of elements individually to your style and requirements. This applies, for example, to:
Windows and doors
Stairs
Garages and carports
Terraces and balconies
Winter gardens
Chimneys
Solar panels
Downpipes and gutters
On the one hand, the individual elements can be designed individually. On the other hand, you can also optically adapt them exactly to your ideas. Simply select the desired element and change the color, material and texture. A material manager is also available to you, with which you can add materials manually. However, this is not just about the optics, because you can also add the most important data relating to the material created, such as the thermal conductivity or density.
Furnish your new home
If the construction is finished and you have already adapted individual elements to your personal ideas, you can also set up your premises. This means, for example, that different living concepts can be tried out and compared. At the same time, maybe you have specific ideas for your new dream kitchen? Simply select the appropriate 3D objects from our catalog and furnish your house down to the last detail. There are over 500,000 elements available to you. The catalog can also be expanded! This increases your options in terms of furnishing and gives you a concrete picture of your project. The ArCADia BIM 3D Architect focuses particularly on kitchen planning. This is why you can simply import catalogs from different kitchen manufacturers into the software and use them there for the design of your building project.
Everything for your roof: roof constructions, roof extensions, dormers and more
When planning your new dream home, the roof also plays a major role. This applies in terms of appearance, but also in terms of living quality, room atmosphere, energy efficiency, budget and comfort. That is why the ArCADia BIM 3D architect offers you all the functions for the individual design of your roof and the elements that go with it. A roof extension in particular can bring you many advantages in the future. You can easily plan this with the software and add dormers, skylights, downpipes, rain gutters, ridge tiles, skylights and other elements to your roof. You can also choose from the most popular roof types and, for more sophistication, rely on the automatic roof construction including wood construction mode for your floor plan. Alternatively, the roof can also be designed and constructed manually using the roof editor.
Extensive planning, realistic representation: garden and surrounding landscape
The appearance and quality of life of your house are also influenced by the environment. Especially when planning, it is important that your dream house fits in optically on the property and in the neighborhood. For this reason, you can use the ArCADia BIM 3D Architect to construct the surrounding landscape and plan and design your building project directly on the property. Tools for modeling railings in all facets are available for this purpose. In the same way, you can easily plan your garden or even irrigation systems with the ArCADia BIM 3D Architect. With this in mind, you can virtually plan your building project on any slope. You can also use our catalog, in which you will find all kinds of elements for a modern, aesthetic and cozy garden. Barbecue areas, carports, winter gardens and the like can also be designed individually in some cases.
Easily plan electrical, plumbing and heating
The drawing of electrical, sanitary and heating systems is particularly important when planning your interior. For this reason, you can easily draw them into your plan in 2D mode. This shows where there are sockets and co. If you would like to plan in more detail and in 3D, the ArCADia BIM 3D system offers you various additional modules, such as the "electrical installations" extension. For the design of your building project as a layman, the ArCADia BIM 3D Architect is usually sufficient.
Down to the last detail: Draw up escape and rescue plans
The ArCADia BIM 3D Architect also offers you all kinds of symbols for creating escape and rescue plans. These can be used to create plans and routes for emergencies. While you are creating these, the ArCADia BIM 3D Architect also creates an automatic legend.
Your dream house in different representations
When working with the ArCADia BIM 3D Architect, it is primarily about getting your dream house and all your ideas on the screen. In this way you can get a concrete picture of your ideas, show the architect your wishes and also present the plan to your family or business partners. For this reason, the plans that you have created using the ArCADia BIM 3D Architect can also be displayed in a variety of ways. The floor plan and the drawing of symbols are usually carried out in 2D. But a more detailed overview is necessary, especially when it comes to the design and optical adjustment of elements. Therefore, simply switch to the 3D mode, in which the software always processes your floor plan synchronously.
Is your plan ready? Then settle into your new house now – at least virtually. Because you can easily enter the project through various displays and functions. During the tour you will notice the realistic representation of the entire building. If you would like to present your visualized project again, you have your own function for presentations.
Create professional multi-renderings
With multi-rendering, your blueprint comes to life on the screen. Because with the ArCADia BIM 3D Architect you can easily render all kinds of plans or elements in 3D in next to no time. This multirendering as well as the ray tracing are created automatically and synchronously with your drawing in the background. This is how you impress family and business partners, taking into account all kinds of parameters for realistic presentation. Because the ArCADia BIM 3D architect also pays attention to incidence of light, shadow, weather and times of day. You can also add and adjust the light sources individually.
Everything at a glance: parts lists, cost calculation and more
The ArCADia BIM 3D architect is also used to calculate and prepare for the implementation of the actual construction project. That is why the software works automatically and creates parts lists and material lists for you. This happens entirely in line with the BIM process. So while you adapt various elements to your ideas and expand your construction, the cost calculation is also made easier. Because you can easily export the material and parts lists in the .csv or .rtf file formats (for example in Excel or Word). This makes it easy to plan the expected costs for your project.
For a good overview: project manager
With the ArCADia BIM 3D Architects you always have an overview of your plan. That is why the project manager works in the background and shows you the drawing to any extent. The floors are also kept separate and can be faded in and out as required. The elements used can also be displayed bundled together depending on the floor, which provides a better overview.
For the next project: create templates
Maybe this is not your last project. Saving all data is important, especially if you are planning further renovation work in the future. At the same time, the planning of your building project is usually also preceded by a trial project. While you try out all kinds of functions with this, you may find other settings immediately convincing. These are not lost! Accordingly, you can easily save elements, settings and construction by creating a template from them. You can later use this for other projects with the ArCADia BIM 3D Architect. So you can also use the software to create your own personal database.
Work with your architect
The ArCADia BIM 3D architect enables you to plan your building project extensively according to German building standards. However, you cannot avoid the work of an architect. Because this improves your plan and adapts it. At the same time, you also need a certified professional to submit the building application for your building project. It is therefore essential that you get an architect on board. However, you don't have to leave all the work to this. Because with the ArCADia BIM 3D Architect you can also work very easily with the experts. The plans created are therefore compatible with the most common architecture software. Accordingly, they can easily be imported into your architect's program and edited there.
This is made possible by the file formats DWG and DXF, which act as an interface to all kinds of other architecture programs. The disadvantage here, however, is that mostly only the pure floor plan is transmitted without transferring various parameters and the 3D view including the individual design. If you would like to transfer the complete program including all parameters to your architect or other parties, you need the IFC interface. This is available as an additional module so that you can send other parties your plans true to the original and extensive. IFC, as a file format of the BIM standard, can be imported into various software such as Allplan, Revit, AutoCAD and others.
All-round care: support and information material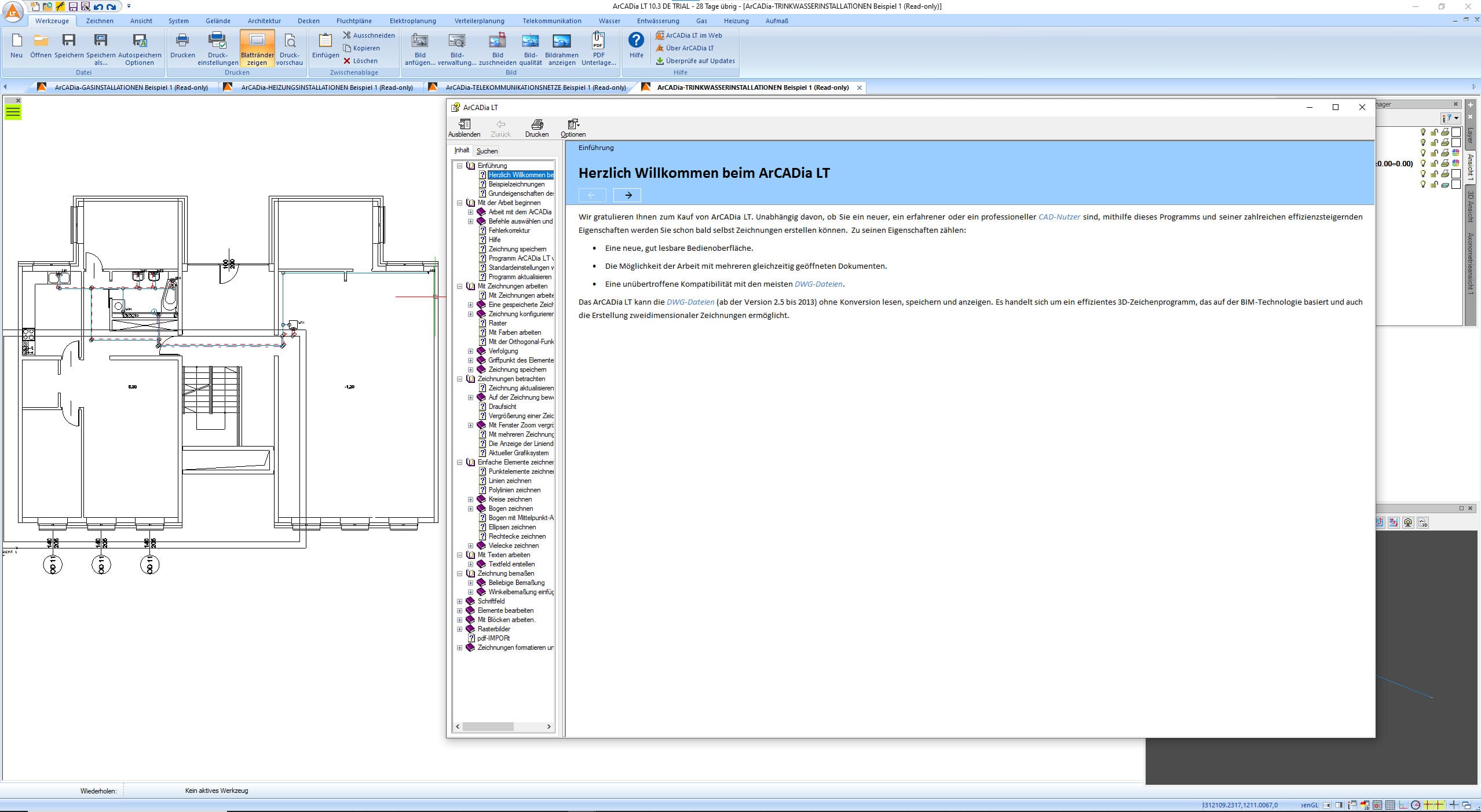 The ArCADia BIM 3D Architect was designed for laypeople and enables you to create a high-quality construction plan for all kinds of properties step by step. Questions can still arise. That is why you are offered free support. In addition, including the software, you will also receive a manual with an explanation of all functions.
Expandable: 13 additional modules for even more functions
The ArCADia BIM 3D Architect offers you all kinds of functions for planning and designing new buildings, conversions, additions and renovations without any extensions. Care was taken to ensure that the basic program already includes all kinds of tools that you as a layperson need for the detailed visualization of your building project. While some technical details were discussed here, other settings were left out. As a rule, however, these include specialist areas in which professional know-how is also required. Nonetheless, if you need additional functions during the planning phase, these can be easily acquired. Because with 13 additional modules you get additional tools for the detailed planning of your building project. You therefore choose exactly which functions you need and only pay for what you really need.