3D CAD BIM architecture software & house planner program
Introductory campaign
When you buy the ArCADia BIM 3D Architect, you receive all 13 additional modules as a full version for 28 days free of charge.
Your advantages
3D Rendering, Multi-Rendering und Raytracing

3D visualization in real time

As 32 BIT or 64 BIT version

Material lists, room lists & roof lists

Carpentry lists, lists of all area and volume calculations

Cost calculation is possible

13 additional modules

Import of 3DS objects

Cuts and plan compilation

International building standards

free Support ticket system

Automatic dimensions

Automatic roof structures + free wooden structures on the roof

Exchange with the architect possible

Import & Export in DWG/DXF

Import & export via IFC (as an additional module)

Customer forum

Comprehensive user manuals with explanations for each function

Terrain modeling & garden design

Compatible with all architecture programs such as AutoCAD, Revit, Allplan, Archicad, ArCon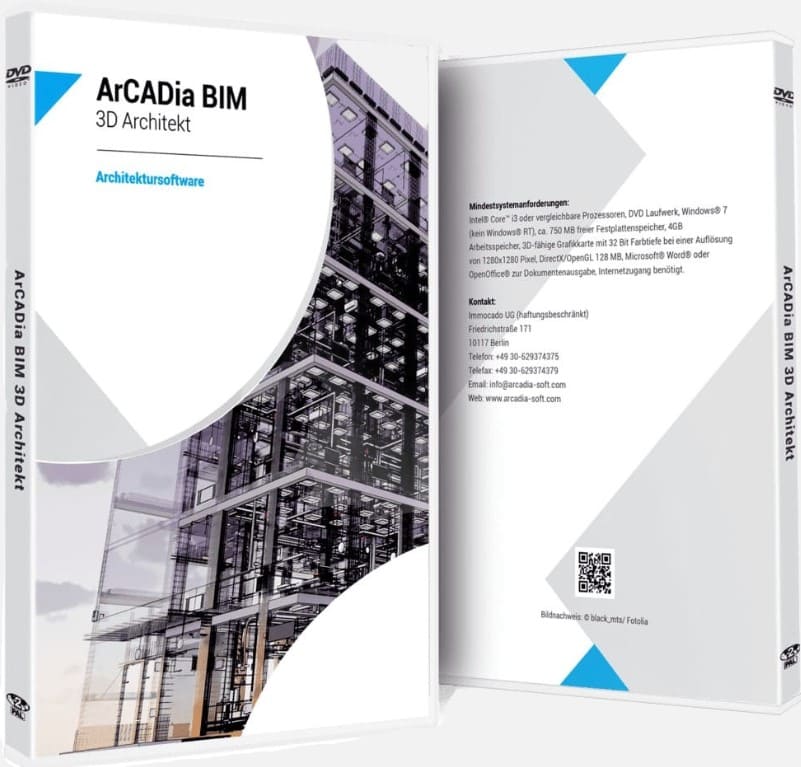 Program for creating 3D models and floor plans
The ArCADia BIM 3D Architect is a program for creating 3D models and floor plans in the field of architecture. With the help of the program you can create floor plans of your property taking into account German building standards. With the help of the additional modules, the program is able to take into account and supplement plans for electrical, plumbing and heating. With this program you have countless possibilities – neither the number of floors that can be displayed, nor of buildings is limited. In addition, existing floor plans can be scanned, imported and used for tracing.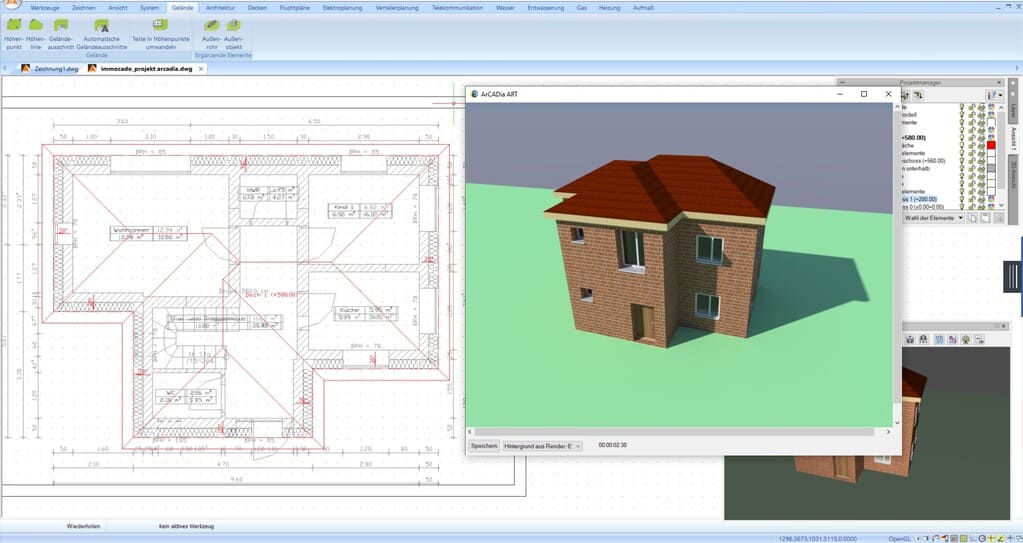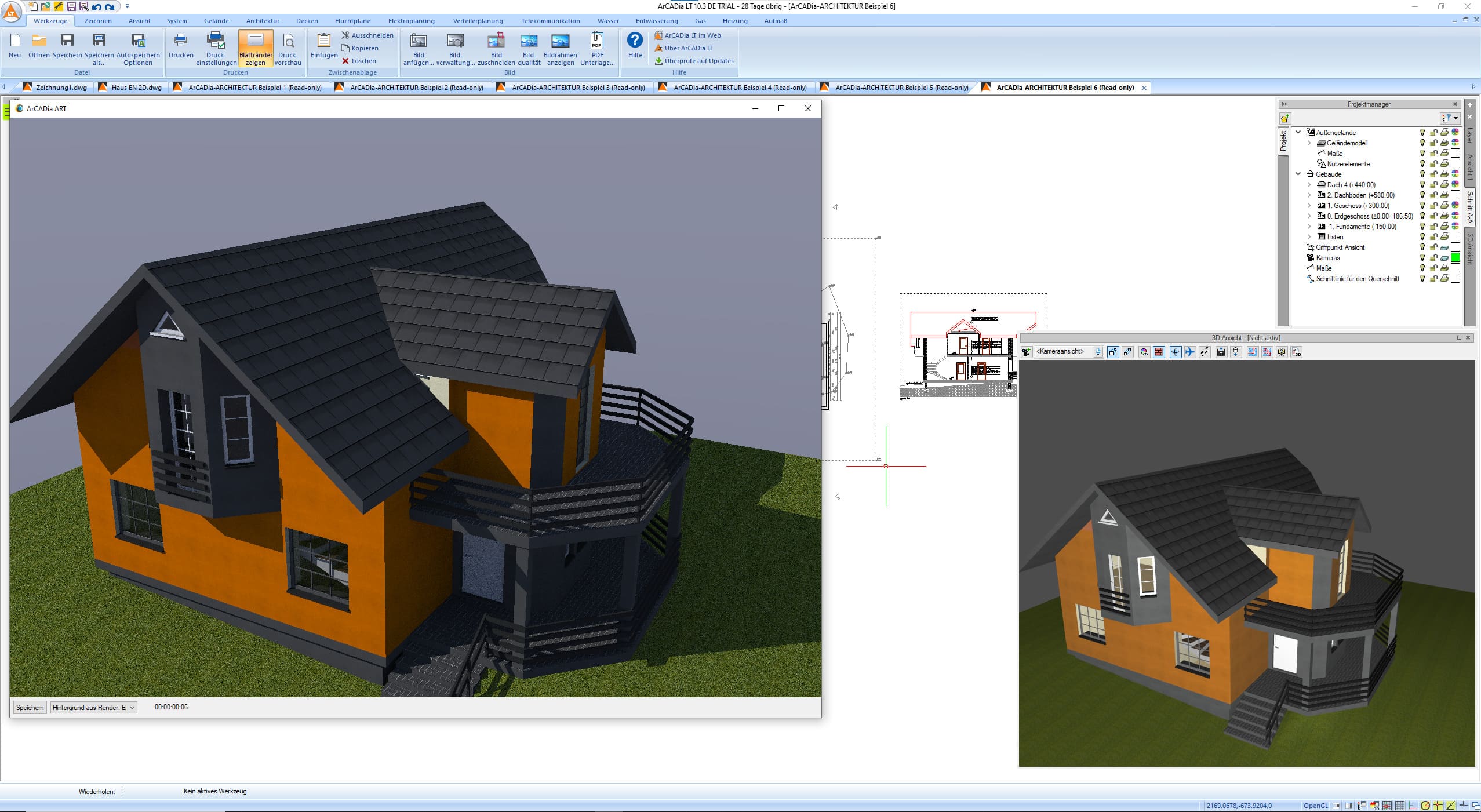 Representation in 2D and 3D
Various windows open at the same time enable parallel work on the 2D floor plan and the 3D model. You can also work very well with several screens and have the 2D view open on one screen and the 3D view on the other. Changes made in 2D construction mode can thus be viewed directly in the 3D visualization. For smaller screens, you can easily click back and forth between the two views in full screen mode.
Networking with other programs
The ArCADia BIM 3D Architect is compatible with almost all professional European CAD programs. In this way, projects and displays can be imported from other programs and displayed without errors. A simplified collaboration with other architects, site managers or installers is guaranteed.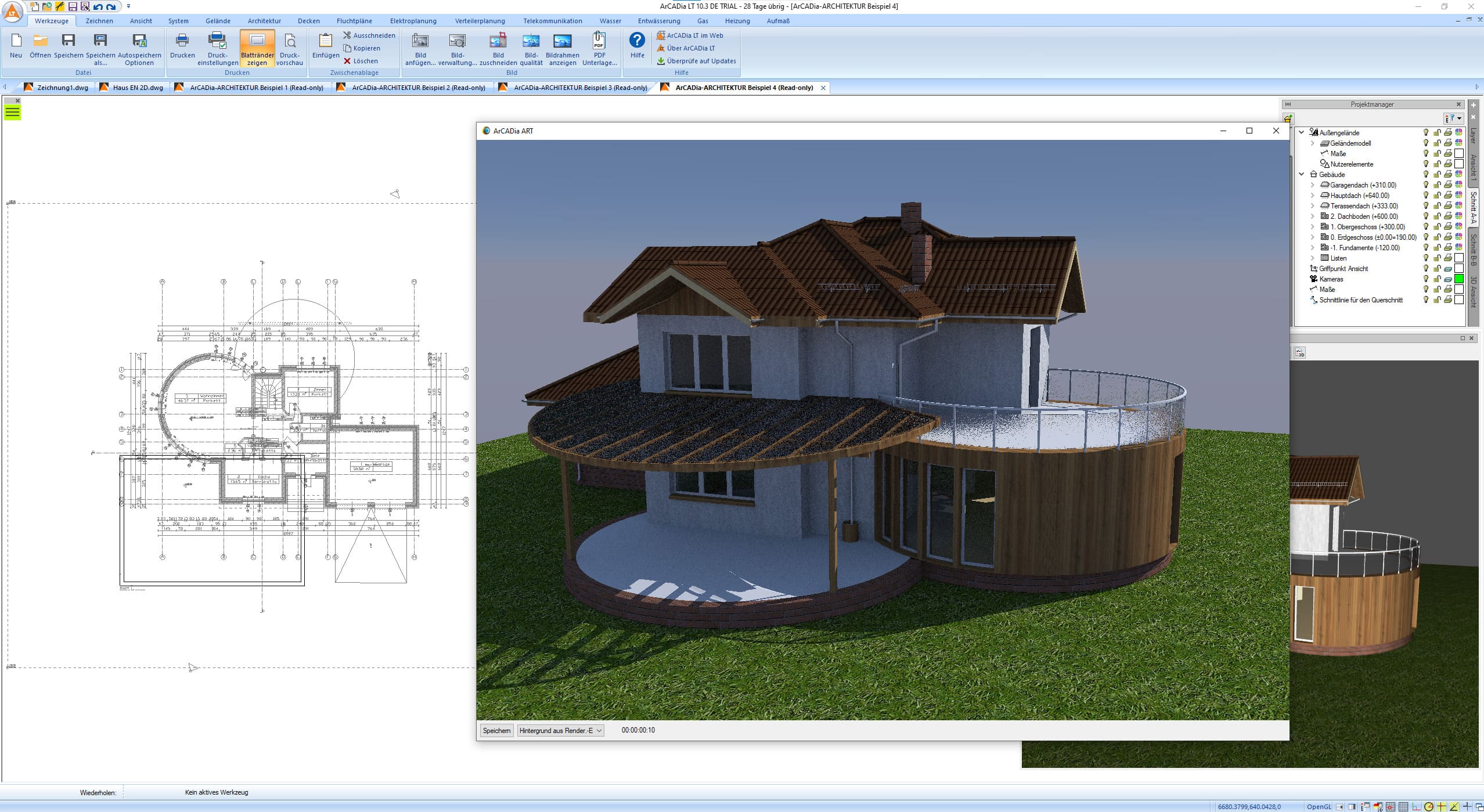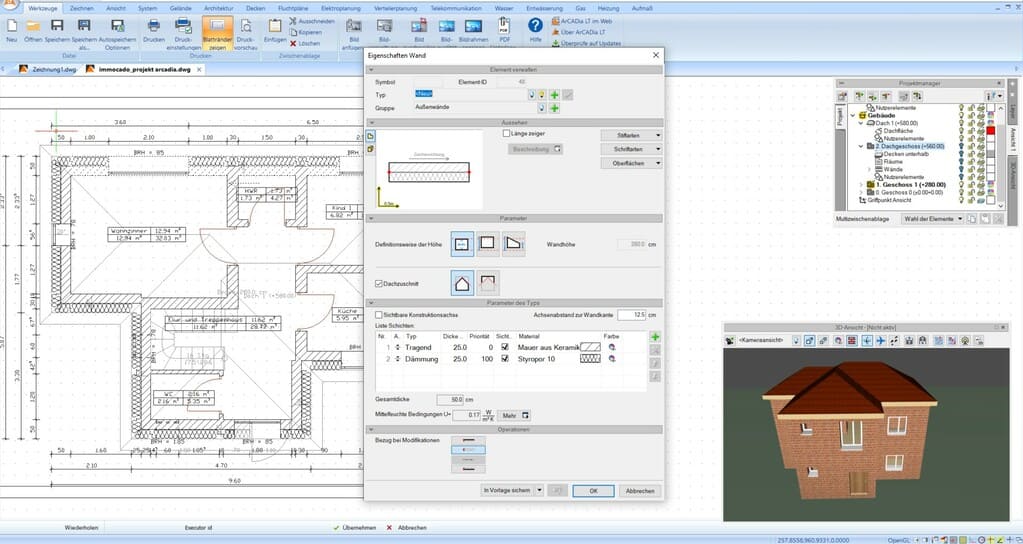 Simple operation without prior knowledge
The user interface of the ArCADia BIM 3D Architect is clear and intuitive. In addition, intelligent wizards and auxiliary programs ensure that you are easily guided through the program and that you can plan your building model without prior knowledge. If something is not understandable, you can always look in the extensive manual in the program.
"Drag & Drop" function
Both in the floor plan and in the 3D model, individual elements can be easily placed and moved using the "drag & drop" function. You can edit them further by clicking on the objects.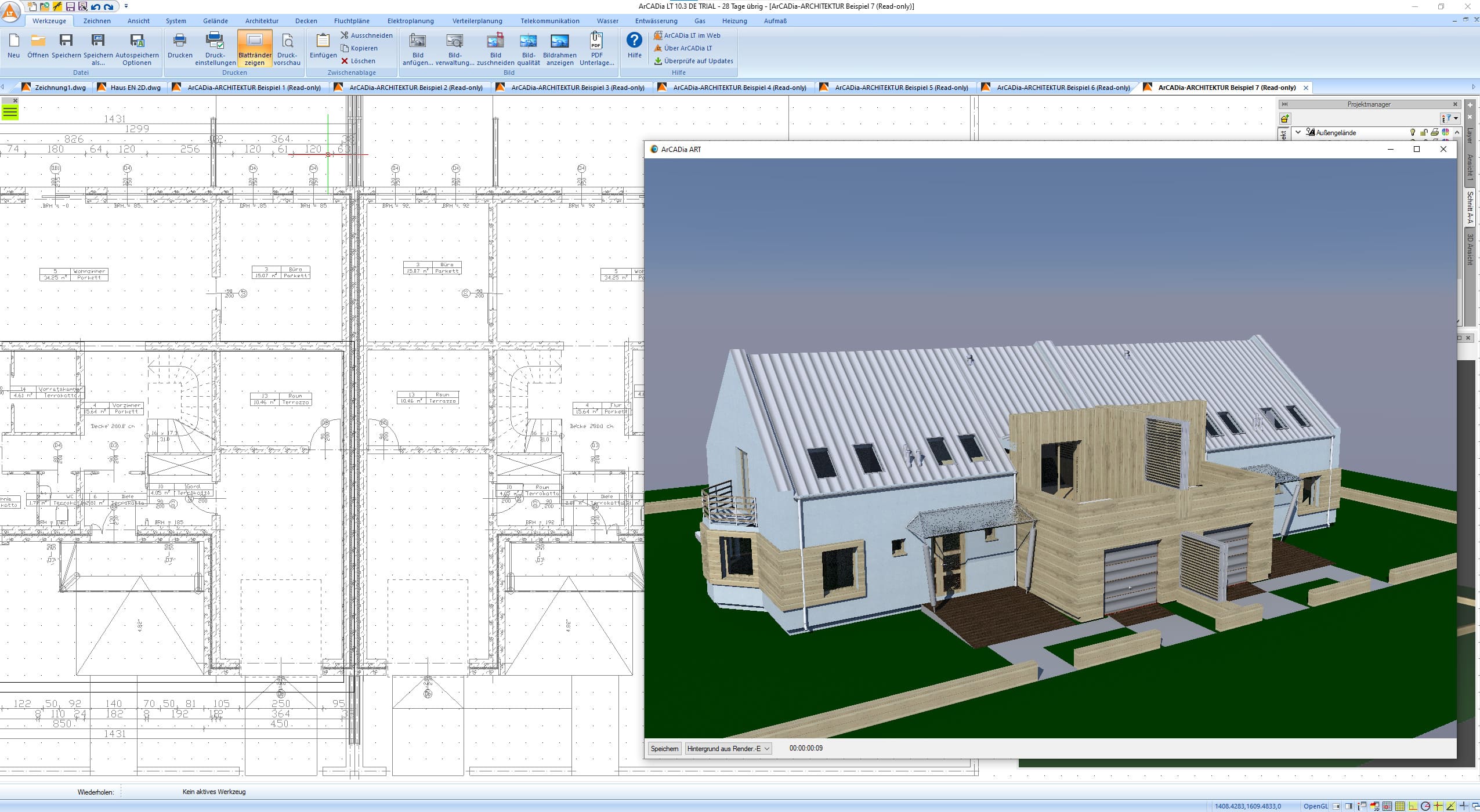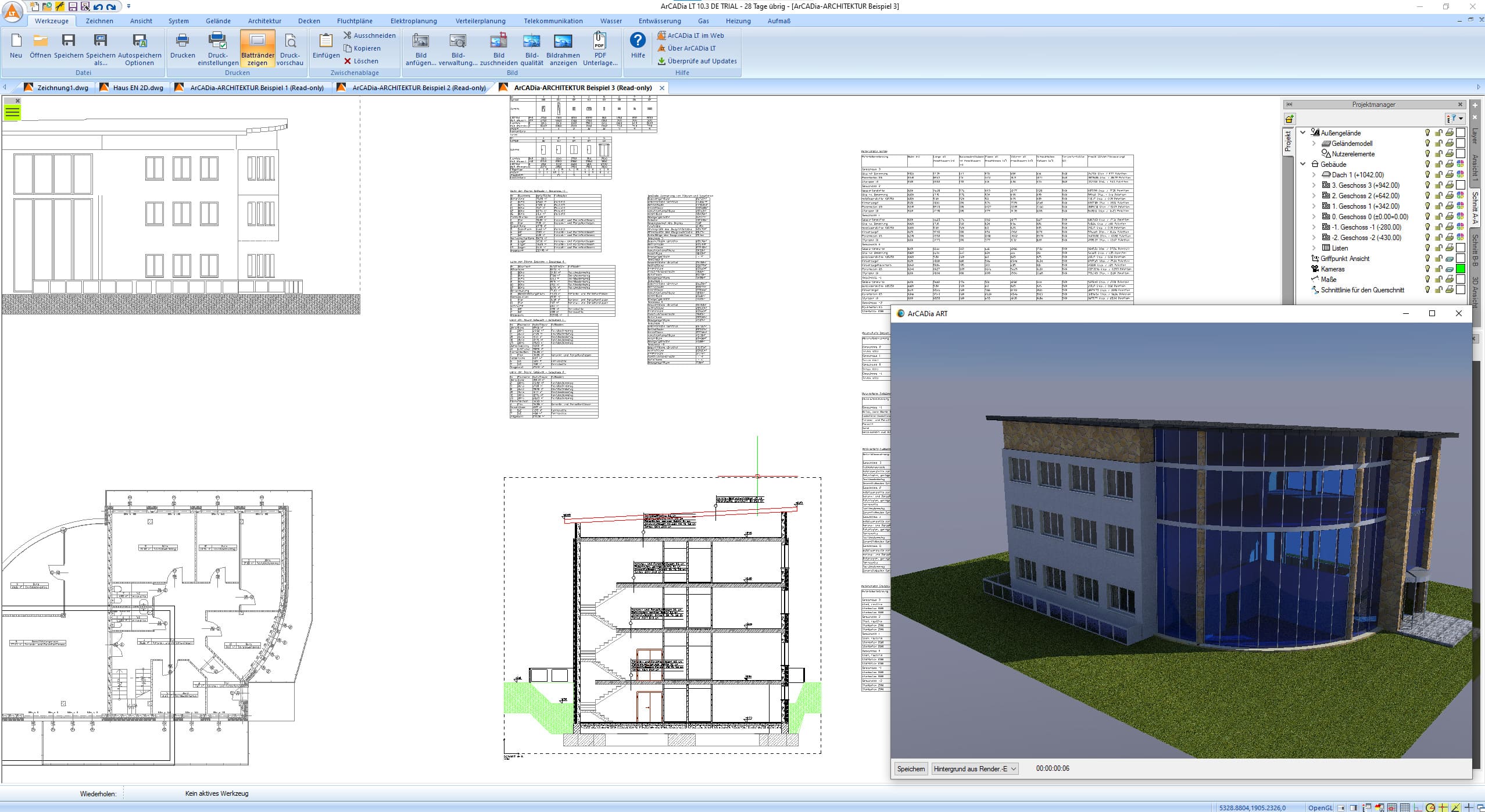 Individual creation and processing of components and objects
With the editors you can design components individually tailored to your project. Walls, ceilings, doors and windows, stairs, roofs, dormers and balconies, and even carports, pools, chimneys or ponds can be displayed and edited with the ArCADia BIM 3D Architects.
Real-time representation
The processing of your draft is shown in real time on the 3D model. Here you can set additional parameters such as lighting and reflections. The program is able to simulate the daily course of the sun. It is even possible to insert a background image of the real environment so that architects and customers can perfectly imagine the building and everything around it.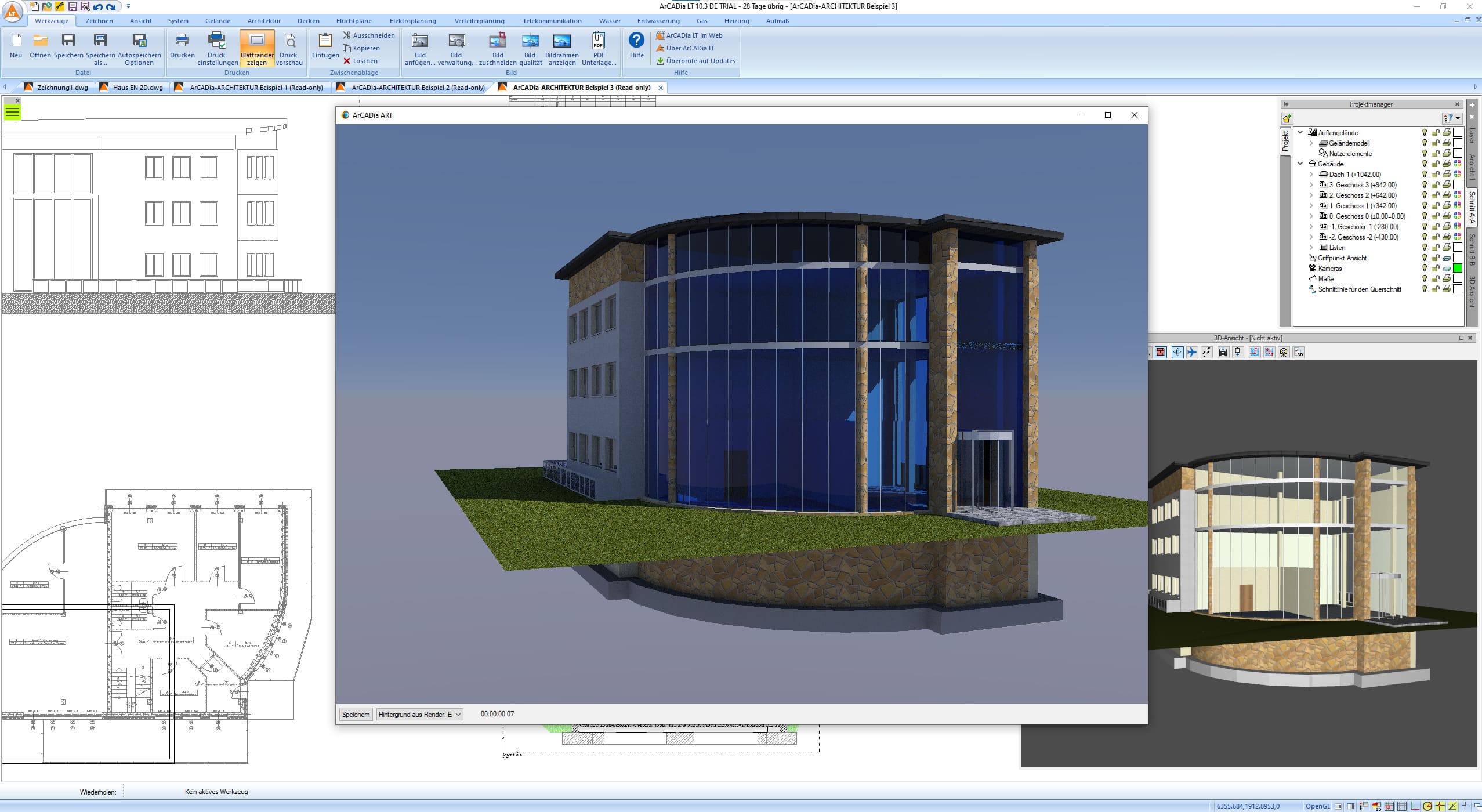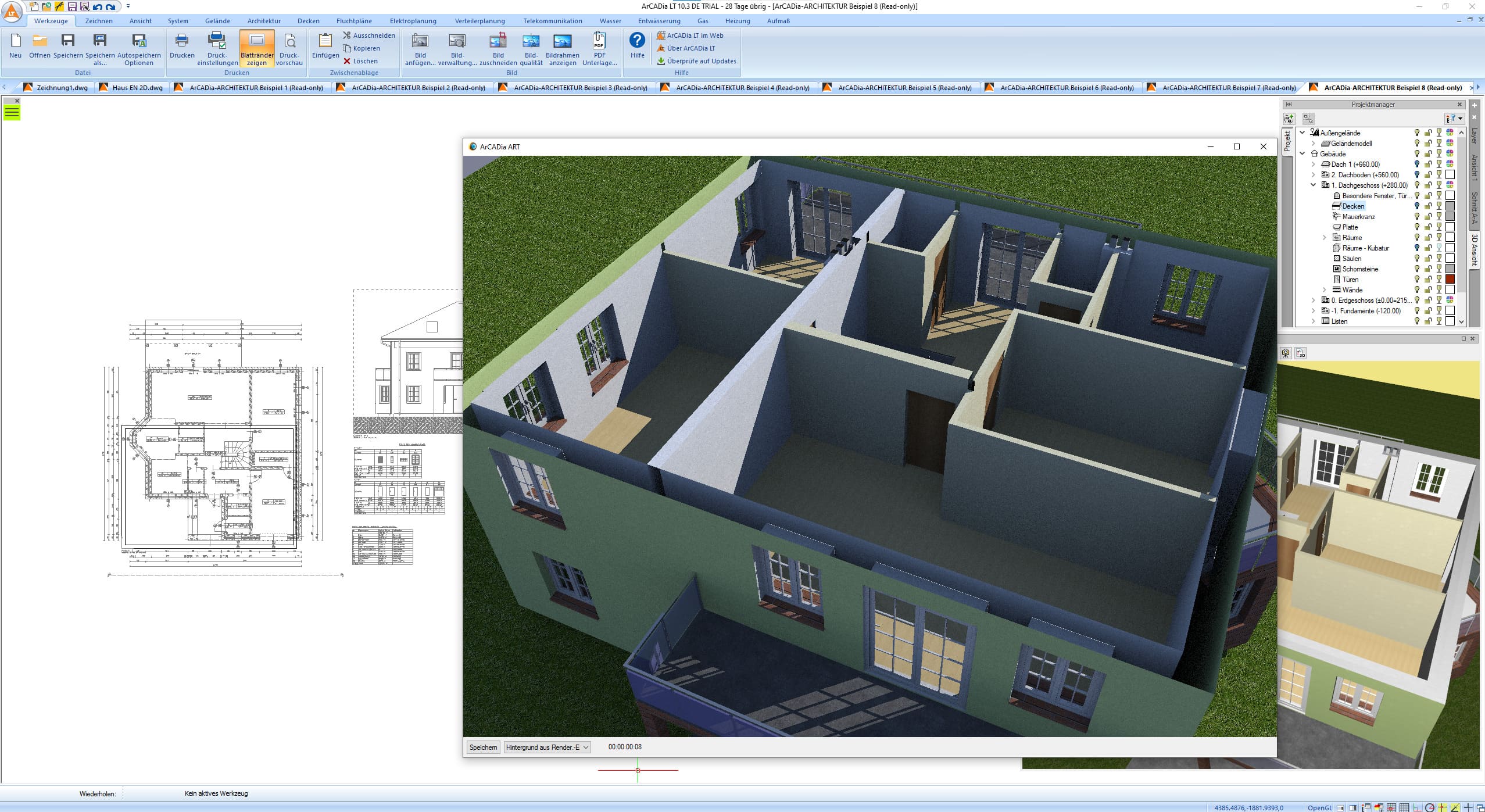 Furnish living areas
With the help of an archive of various 3D objects and many different materials, you can furnish the rooms and living areas of your model realistically and modern. Extended object databases and the possibility of importing objects from other manufacturers in 3DS format or self-created textures as image files allow the design of an individual interior for your virtual space.
Create professional sections and views
The ArCADia BIM 3D Architect enables a professional compilation of various labeled views and sections of the floor plans and the 3D model of your project. With just a few clicks you can create plans for presentations to customers or for submitting building applications.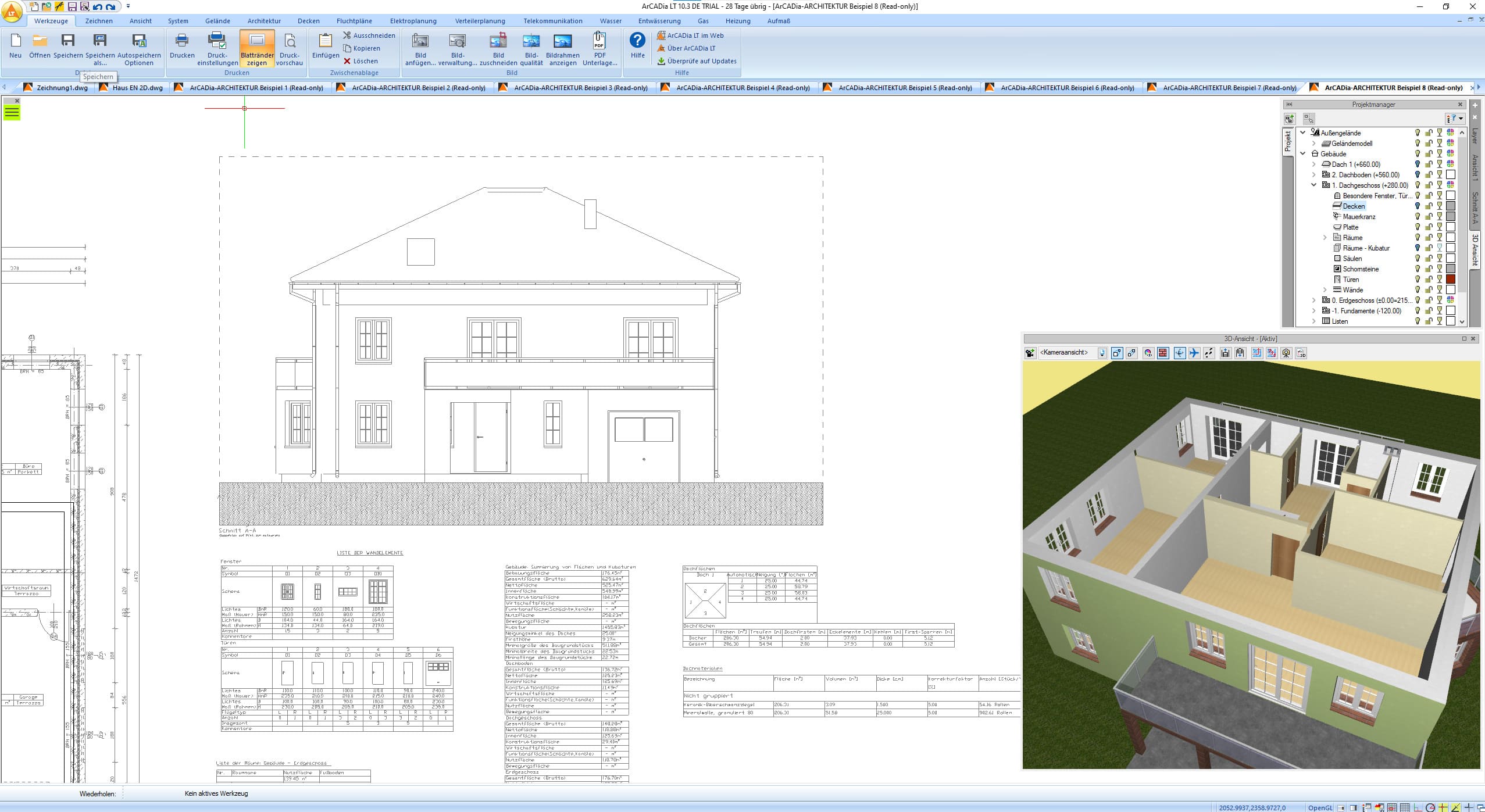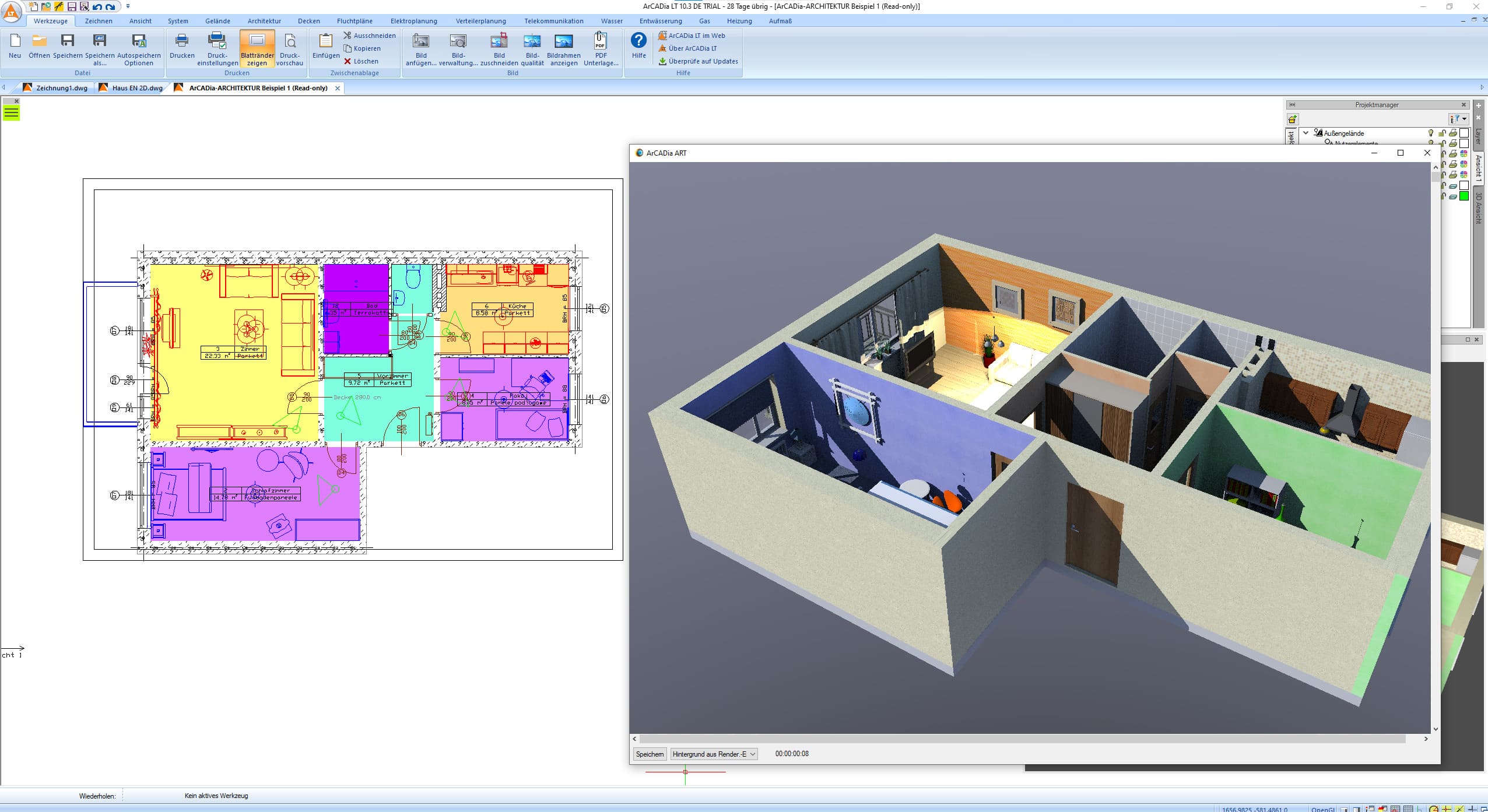 Suitable for projects with extension or conversion
The program is ideal for projects with an extension to an older building or its renovation. Various functions support you in planning: Multi-layer walls for attachment to existing objects can, for example, be generated and adapted as required.
Automatic dimensioning and area calculation
On request, the ArCADia BIM 3D architect automatically calculates the size of surfaces, walls or entire rooms. Change requests can be set manually and easily. The conversion from European to American units of measurement enables collaboration with international clients or architectural offices.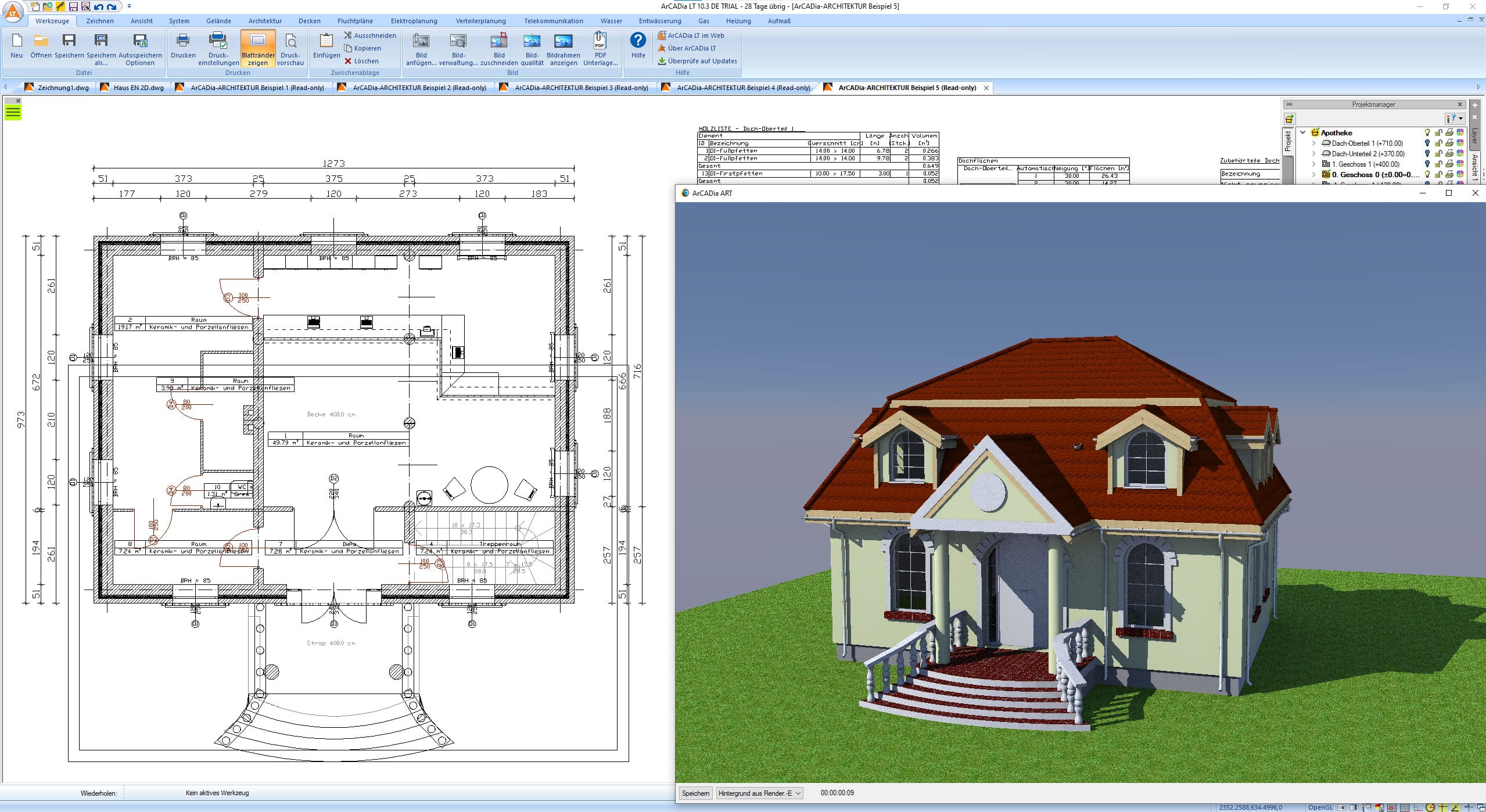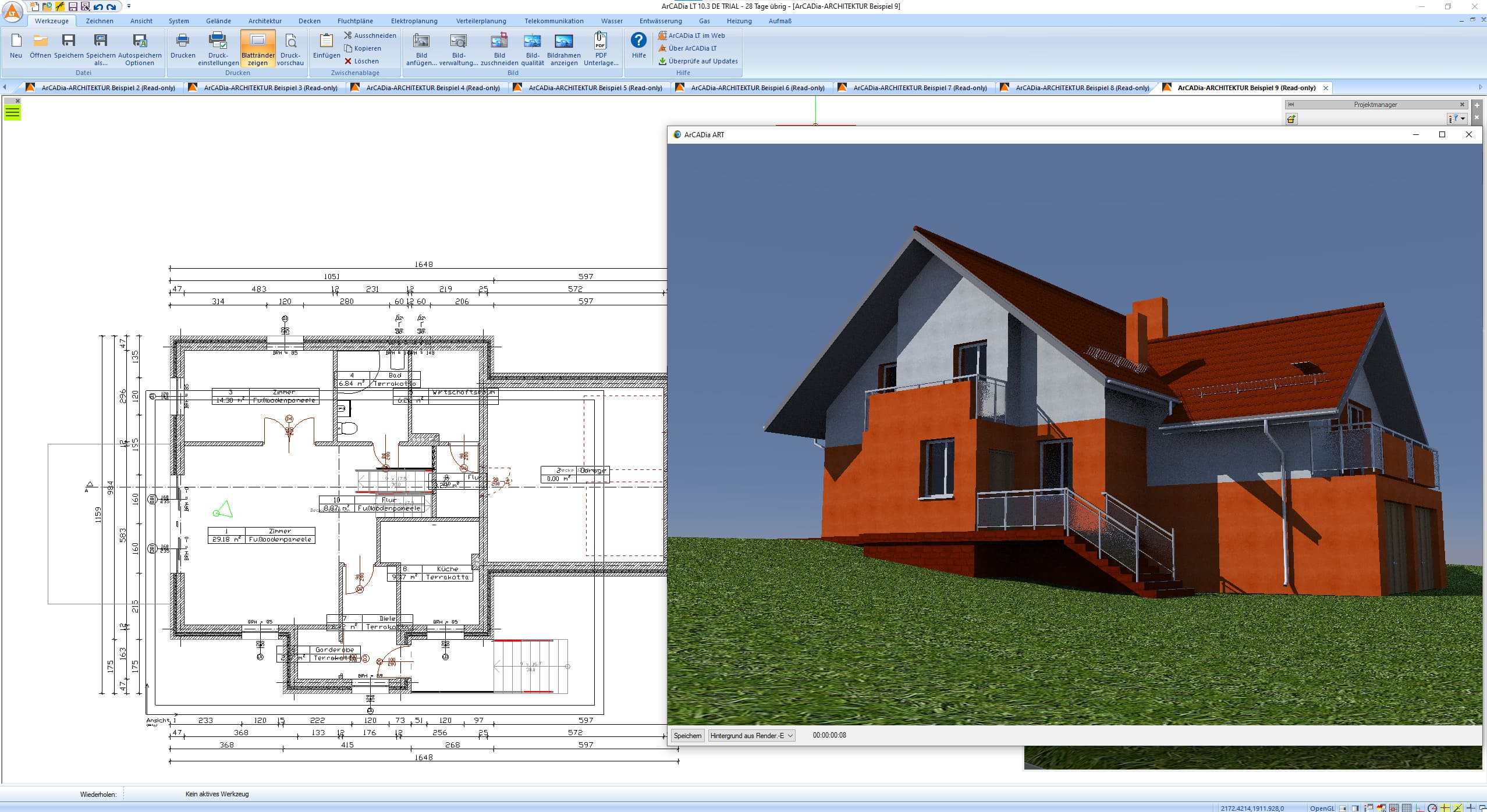 Garden and landscape
A selection of 3D elements from the garden and surroundings area enables the surroundings of your building to be designed individually and adapted to the property. Slopes, hills, streams, paths or ponds are freely available.
Free operating assistance
Numerous free video tutorials and step-by-step instructions support you in operating the ArCADia BIM 3D Architect. In addition, if you have any problems, our support staff are available Monday to Friday from 9 a.m. to 5 p.m.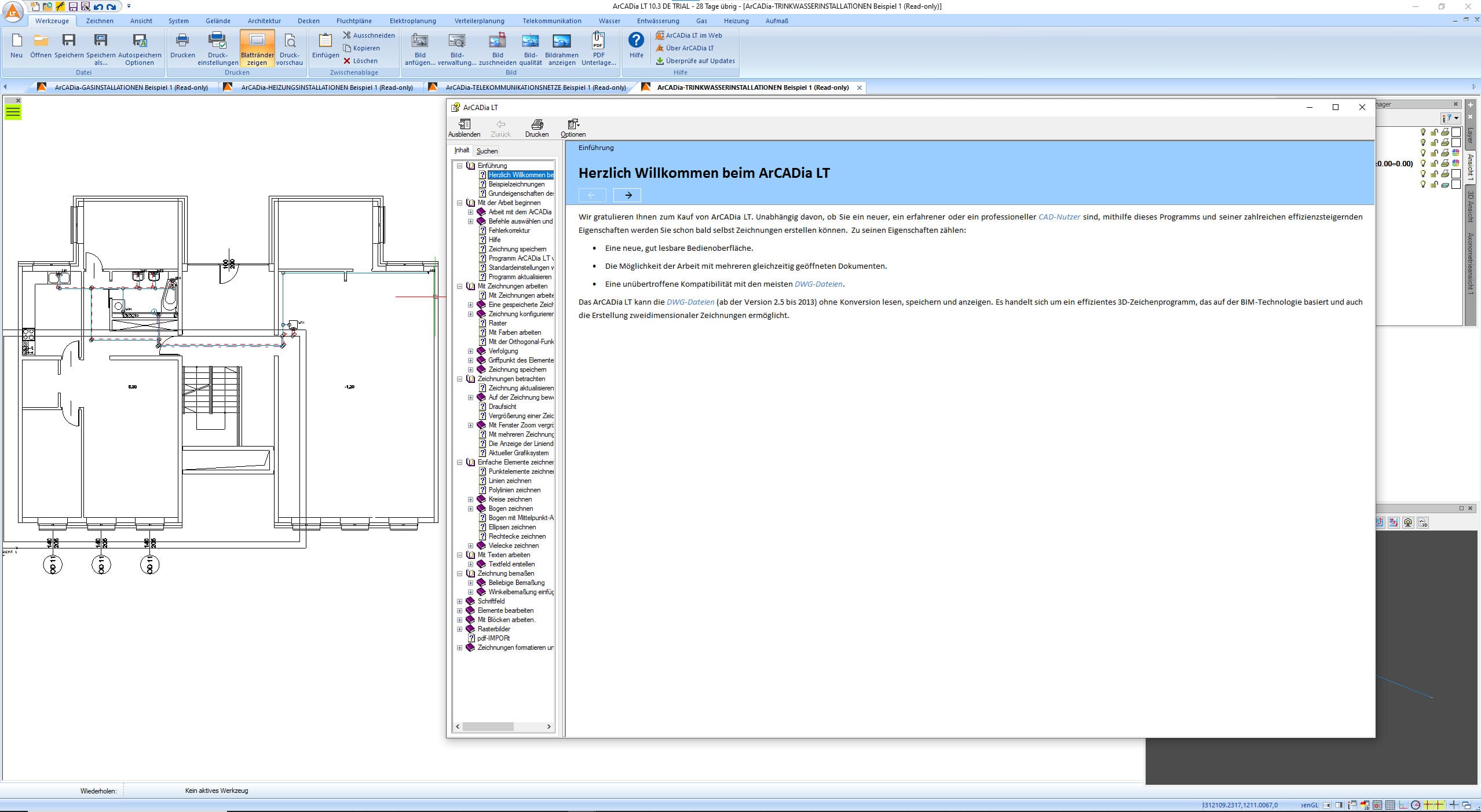 What is the advantage of BIM software?
There are plenty of software out there these days to help design a building. But which one is more suitable? A 3D CAD software or a BIM program? In contrast to "normal" 3D CAD programs, BIM software offers several advantages.
Save costs and time with the BIM software
The biggest advantage of the BIM software is that it can be used to work efficiently and easily with others. This saves time and money and can make a construction project cheaper. With the software, builders can do important preparatory work and visualize their personal ideas of their building and then share it with third parties. Architects and civil engineers, but also other service providers, can simply take over the plans and edit them if necessary.
Easy transfer of all plans and data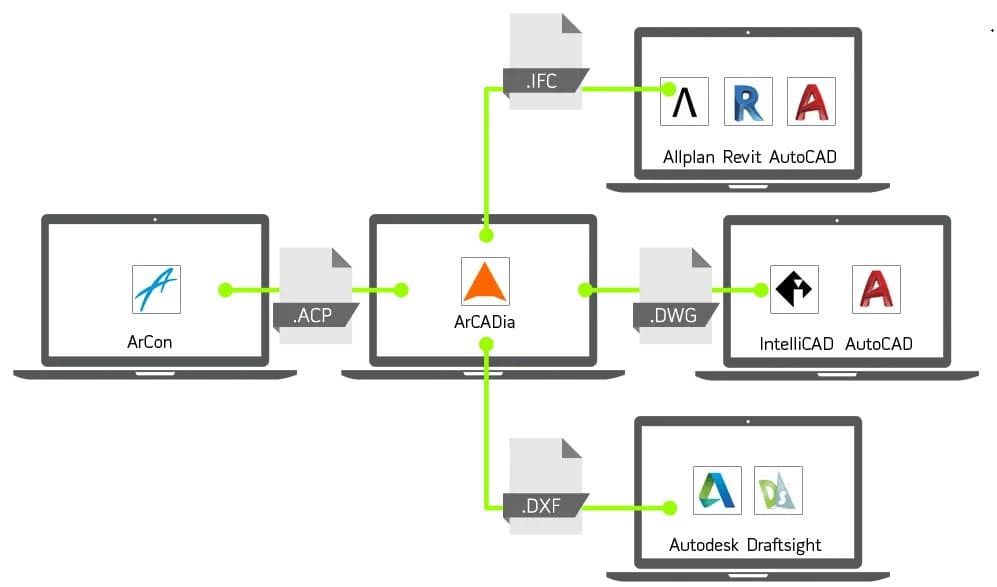 With BIM software, all technical and physical parameters of the elements are already defined during the planning work. For example, the properties of the windows and doors or the structure of the walls can be specified. In addition, this data is saved in the project file so that it is available at any time should further calculations be necessary.
With the BIM software, all information stored in the project file, physical-technical details and entire 3D models can be passed on to others without problems and, above all, in a time-saving manner. Immediately after the import, all plans, drawings and 3D models as well as all relevant information are available elsewhere. There they can be used for further processing.
This is made possible by the ICF file format, which, unlike the DWG and DXF formats, ensures that all of the content of the project files can be transmitted. With the DWG and DXF formats, however, only drawings of floor plans can be transferred, but not technical properties or 3D models.
The BIM software checks and combines documents and plans
Numerous drafts and documents are needed to plan a building project. With the help of the BIM software, these can be easily compared with one another and checked for overlaps or differences that make execution impossible. In addition, the various plans of different service providers such as architects, electricians and the planning of the water installation can easily be merged into one file.
The BIM software ensures that all planning steps are combined in one software. In this way, everyone involved can work together effectively, saving time and money.
BIM software is standard in Europe
BIM software is used by many property developers, civil engineers and architects across Europe. In addition, it can be combined with the DWG, DXF and ICF file formats with all common architecture programs such as Allplan, Archicad, ArCon, AutoCAD, Autodesk REVIT, Immocado and Plan7Architekt. In this way, project data can be shared quickly and easily.
Which version of the ArCADia BIM 3D architect is suitable for whom?
In ArCADia BIM 3D Architect, use is simple and an intuitive menu ensures that your own plans can be visualized quickly, easily and without prior experience. There is also extensive program documentation, instructions by video, a customer exchange forum and user support.
The ArCADia BIM 3D Architect is available with and without additional modules. Whether and which additional modules are advisable depends on how the software is used and what is to be created with it.
BIM software for private individuals and property owners
For those who want to visualize their own plans for a new building or a renovation or who want to prepare for submitting a building application, the basic program without additional models is sufficient. The standard version is sufficient to produce 2D and 3D models that take into account the building standards in Germany.
BIM software for collaboration with an architect or other stakeholders
If you want to visualize your plans independently, but later want to work with an architect or other service provider, you should choose BIM software with an IFC interface as an additional module. At least if not only 2D models, floor plans and sections but also technical properties and data are to be transmitted. With BIM software including an IFC interface, plans can first be designed and drafted yourself and later easily shared with an architect. Thanks to the interface, the architect not only receives floor plans, but also all parameters and entire 3D models. In the further course of planning, ideas, plans, drawings and documents can be exchanged with an IFC interface. The IFC interface can also easily be booked later.
The additional modules: BIM software for architects, civil engineers and other professionals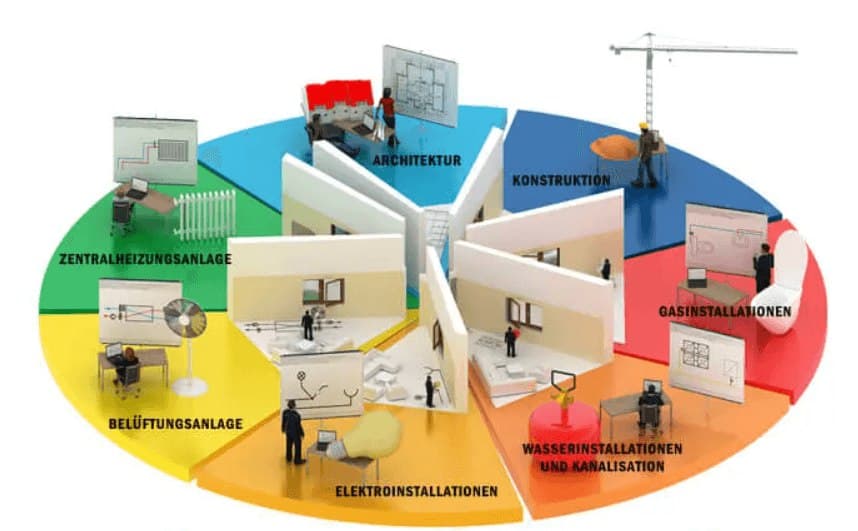 BIM software not only makes work easier for laypeople who are not familiar with construction or new construction projects – those who deal with new constructions and conversions on a daily basis also benefit from the software. The various additional modules are worthwhile for professional use, as BIM software offers everything that is required for professional planning of the entire construction process. The additional modules can be purchased individually so that no module has to be purchased that is not needed.
With the right modules, the BIM software connects all people and service providers involved in the construction and enables a simple exchange of plans, models and technical parameters. Architecture, gas and water, sewer and electrical installations can be easily connected to one another. In addition, ventilation systems and central heating systems can be added and a heating load calculation can be carried out. In this way, the entire process can be planned efficiently and cost-effectively. Combining several documents into one plan ensures that everything remains clear.
At the same time, errors are recognized through the automatic comparison of the documents and the software points out overlaps and differences.
General information about architecture software
Design your construction plans with the ArCADia BIM 3D architect
The ArCADia BIM 3D Architect enables you to plan your architectural project in an expressive and creative way. Develop, visualize and review your projects in a professional manner and prepare them for presentation to the customer.
Thanks to the very powerful 3D engine, even very extensive projects with many buildings and a large area can be displayed photo-realistically in real time and with high image quality.
An enormous number of 2D and 3D objects offer you the opportunity to plan, design and set up your dream object easily, quickly and professionally – from a simple floor plan to a finished three-dimensional representation.
Help functions and program wizards ensure efficient planning and design at a professional level – even with only a little prior knowledge. That is why the ArCADia BIM 3D architect is also a support for planning private house construction.
Thanks to a high degree of compatibility with other CAD programs and common architecture software, planning statuses and drafts can be easily imported or exported, so that working on the same project with third parties such as architects, civil engineers or private customers is made easier.
Here's what to say about architecture software for home designing
Before you can start building your dream home, it must first be put on paper. All technical data and aesthetic components are taken into account on this plan. However, you have to ask yourself the question: Do you want to involve an architect in the planning or do you prefer to visualize your dream home, including all the extras, yourself? For the latter, you need 3D architecture software.
Plan your garden, house and furnishings
Before you decide for or against a 3D software for creating the house plan, the various advantages and disadvantages must be weighed. The advantage here is obvious. Because in cooperation with an architect, details that require expert knowledge can be implemented or edited more easily. Installations in the kitchen, bathroom or even on the terrace have to meet various requirements. Did you know, for example, that there is no electrical installation 60 centimeters around a shower or bathtub?
Regardless of this, there are only advantages in independent planning with innovative software. These relate to the factors of time, money and individuality. Because planning on your own
Saves money: Draw your house plan yourself, save yourself the costs for the architect. Planning in particular is one of the cost-intensive activities of professionals, which is why you can save money here. Finally, to be on the safe side, your architect only has to check the plan and make changes if necessary.
Saves time: The planning and construction of a house are known to be cost-intensive. However, they are just as time consuming. In order to design the home of your dreams, an architect would have to keep drawing new plans and changing them according to your wishes. Appointments have to be organized for this process and you will certainly plan a few hours. With one piece of software, however, you can create one from a single source, anytime and anywhere.
Enables the highest level of individuality: With versatile software you can make your craziest living dreams come true. Different functions and tools help, which also provide additional creative input.
Find the right software for your construction project
If you have decided to plan the house yourself, you need the right software in the next step. After all, the Internet is full of countless programs that should help you design your dream home. However, that does not mean that all of these programs are suitable. Some software is not much more suitable for drawing a real building project. So that you do not realize in the middle of the planning process that the selected software does not fulfill the desired functions, we have put together a few points. These describe the minimum requirements for innovative architecture software and show you what to look out for.
3D and 2D modes: This point is essential and is still not taken into account by some software. The selected program must be able to work in both 2D and 3D. This guarantees the accuracy and logical structures in the plan. How to draw the floor plan in 2D and implement the design ideas in 3D.
Ease of use: Software can have the most exciting tools – if you can't use them or find them, you won't get them anywhere. The selected program must therefore have a user-friendly interface and be intuitive to use.
Room planner: Once your house is in place and equipped with any elements such as doors, windows, stairs, etc., you should be able to furnish it. This is how you get a realistic picture of your dream home. In addition, various living objects already generate the feeling of life on the screen. So, maybe by setting up you can find a few flaws in your plan. Even if this is not the case, an integrated room planner is simply suitable for implementing various living concepts.
Object catalog: In addition to setting up the rooms, the software should also contain various objects. An extensive library with lots of furnishings and inventory, such as plants, is best. At the same time, the individual design is important. Therefore, generators and customization options should be available with which you can change colors, materials and textures.
Eligibility to work with architects: Although you have created the plan, you still need to work with an architect. They can only control your finished plan if it is compatible with and can be integrated into other programs.
Customer service: Customer service should not be underestimated when choosing the right 3D architecture software. If problems arise, solutions must be easy to find. There should be a combination of existing assistance, for example video instructions or manuals, and individual assistance, for example customer service over the phone.
Use free planning software?
Building a house is expensive, so try to avoid other costs as much as possible. Don't skimp on the wrong corners, however! When looking for architecture software, you will also come across free offers. This price is usually also noticeable in the range of functions and the quality of the program. So it can happen that the presentation looks dry and unrealistic. More often, however, it is the case that you cannot stop planning in the first place. In the middle of the planning process, you will come to the conclusion that important functions are missing. This applies, for example, to the individual construction of roofs or the furnishings. Regardless of the missing function, a lot of time has passed by then and you will not get it back.
Create plans like a pro with affordable software for laypeople
If you have noticed that free software usually does not meet the desired requirements, look further at inexpensive programs. Here you come in a good direction. Because you will find some software that has numerous functions, can also be used by laypeople and yet draws floor plans that meet all building standards. Of course, these programs cannot be compared with the architect's software, which sometimes costs hundreds and thousands of euros. However, they can hold a candle to them and are always sufficient for drawing an extensive plan.
Most of the time, you don't have to invest directly and be surprised. In the test versions, for example, you can have access to a wide variety of functions for 24 hours and thus get a feel for the program.
What are the minimum requirements for a 3D architecture software?
When looking for the right software, always keep an eye out for certain features. Some programs may have special features, but they don't even meet the minimum requirements. We have listed a few points that the respective program must include.
Minimum requirements for the basic structure
It must be possible to easily do the following:
Design and drawing of various wall types
Creation of ceiling tiles and the customization of their texture
individual construction of roofs
optional addition of roof elements such as windows or solar panels
Construction of chimneys, stairs and Co.
Creation of multi-layer walls
Minimum requirements for room design
After you have finished building your dream home, breathe a little life into it. For this, the selected program must contain at least the following points:
Catalog with extensive inventory for setting up or completing the plan
Simple insertion of objects using drag and drop
Individual design of walls and ceilings including cutouts or slots
Individual design of doors and windows
Other architectural software requirements
Other functions that the selected software should definitely include are the following:
Choice between different types of terrain
Object generator in 3D (design various elements or furnishings yourself)
Individualize objects (texture, color and material)
Automatic calculation of living space and other important dimensions
Integrate third-party 3D objects
House planning without limits
It is important that the architecture software you choose does not set any limits when it comes to designing your dream home. Specifically, the construction of an infinite number of walls, roofs and floors should be possible.
The dream house from all angles
For a clear design and planning of your house, you must be able to see it from all angles and corners. The work process should also take place in different views, with constructive work being carried out in 2D and creative work in 3D. In addition, there must be different sections and side views.
Work in layers
When creating your dream house, you should be able to work in layers or foils. These represent their own levels in which you can carry out all kinds of plan drawings. The individual slides can in turn be shown and hidden, so you always have an overview. If you have used different methods or concepts in the different layers, you can switch all slides to visible. As a result, you are given a complete overview of all ideas and you have a direct comparison in front of you.
Construct the construction plan for the building application
Is your dream home – at least on the screen? However, certain requirements must be complied with for the annex to the building application. The construction plan must be in DIN A1 and also contain a compilation of the plan including side views, sections and any 3D visualization. The chosen architecture software should be able to put these things together automatically and by itself.
Generate individual 3D objects
For the highest degree of individuality, you should also be able to easily construct 3D objects yourself. This is particularly beneficial when planning certain elements, such as a carport, garage or loggia. This generator should also be easy to understand in order to enable the objects to be individually designed.
Realistic representation through light and shadow
In order to get a feeling for the planned house, a few things have to be considered in the representation. Innovative software therefore automatically calculates incidence of light and shadows, with the focus on ambient shadows. This is important when planning the house in the sense that you ensure brightness through lighting elements or the smart positioning of windows.
Cooperation with architects: import of the data
After you have completed the independent house planning, the floor plan and co. Must now be checked by your architect. However, in order for them to have access to the plan, its format must simply be compatible. When choosing the software, pay attention to the interfaces. They usually include:
For 2D: 2D DWG (AutoCAD) and 2D DFK format
For 3D: OBJ, SketchUp, 3DS and 3D-DXF
Modern development environment (microsoft.net)
Old programs, old versions and, as a result, an old programming language cause possible errors in the display of the software. It is possible that the operating system can no longer start them or does not support all functions. Therefore stick to modern programs with the latest versions.
Extensive customer support
Before you decide on home planner software, find out about any customer support. Even if the program itself is very easy to use, problems can always arise. In these cases you need to be prepared and able to find solutions easily. For this reason, the software should also provide an extensive help area and provide contact with customer service.
For laypersons and professionals: usable by everyone
The program should be easy to use and still meet all the requirements of a professional house planner. That's why the architect has to find a good middle ground between sparse and highly professional software.
On your own: carry out house planning intuitively and easily
We have summarized all the points you need to consider when looking for the right software. However, you can also shorten this search and use the ArCADia BIM 3D Architect directly.
The ArCADia BIM 3D Architect is the innovative software for planning and designing your dream home. It contains all the minimum requirements for extensive architecture software and more. Accordingly, it is also suitable for private builders and architects alike and is available for download directly online.
Good price-performance ratio: Working with the ArCADia BIM 3D architect
The decisive argument for using the ArCADia BIM 3D Architect is its excellent price-performance ratio. Because we offer it to you for direct download at an unbeatable price. Once you have it, you can easily and intuitively create your dream home. Thanks to the extensive functions, you can implement all ideas and ultimately get professional results. These aspects are only confirmed by the object generator in 3D or the numerous auxiliary tools for the construction of roofs and the like. The house plan, which you create with our software, forms the ideal basis for further processing by the architect.
You have questions? Then simply contact us by email and we will answer your request!